Ice Dragon
Rank
 A
Element
 Primal
Size
Huge
Creature Type
Dragon
Ability
Stone Gaze
Speed
 5
Battle Points
12
Set
Frost Spire, Trek to Iceholm
Card Text
Never stand between a Hutchen and his dinner, a Bramble and a sunshine, or a Dragon and its treasure.
Card text changed from "Few of the Ice Dragon's victims die from being crushed or speared by its tail. They suffocate after being encased in the ice it creates." on an unknown date but probably with Update 1.5.1.
Like all Frost Spire cards, Ice Dragon received a stats boost on July 25th, along with their rerelease. Its card set also changed to Trek to Iceholm.
Ice Dragon A
Edit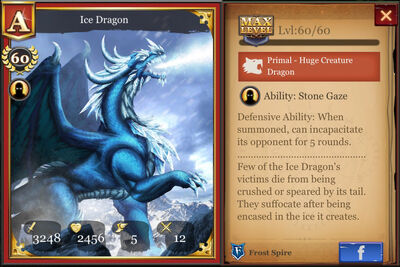 | Level | Attack | Health |
| --- | --- | --- |
| 1 | 1804 | 1364 |
| 2 | | |
| 3 | | |
| 4 | | |
| 5 | | |
| 6 | | |
| 7 | | |
| 8 | | |
| 9 | | |
| 10 | | |
| 11 | | |
| 12 | | |
| 13 | | |
| 14 | | |
| 15 | | |
| 16 | | |
| 17 | | |
| 18 | | |
| 19 | | |
| 20 | | |
| 21 | | |
| 22 | | |
| 23 | | |
| 24 | | |
| 25 | | |
| 26 | | |
| 27 | | |
| 28 | | |
| 29 | | |
| 30 | | |
| 31 | | |
| 32 | | |
| 33 | | |
| 34 | | |
| 35 | | |
| 36 | | |
| 37 | | |
| 38 | | |
| 39 | | |
| 40 | | |
| 41 | | |
| 42 | | |
| 43 | | |
| 44 | | |
| 45 | | |
| 46 | | |
| 47 | | |
| 48 | | |
| 49 | | |
| 50 | | |
| 51 | | |
| 52 | | |
| 53 | | |
| 54 | | |
| 55 | | |
| 56 | | |
| 57 | | |
| 58 | | |
| 59 | | |
| 60 | 3248 | 2456 |