Yeti
Rank
 B
Element
 Primal
Size
Medium
Creature Type
Yeti
Ability
 None
Speed
 3
Battle Points
12
Set
Frost Spire, Trek to Iceholm
Card Text
The Yeti is the uncontested king of Northern Lythia. Unless you'd like to challenge him?
Card text changed from "At the last minute, Gunner noticed he had walked into the beast's ambush. He knew only one of them would leave the cave alive." on an unknown date but probably with Update 1.5.1.
Like all Frost Spire cards, Yeti received a stats boost on July 25th, along with their rerelease. Its card set has also changed to Trek to Iceholm.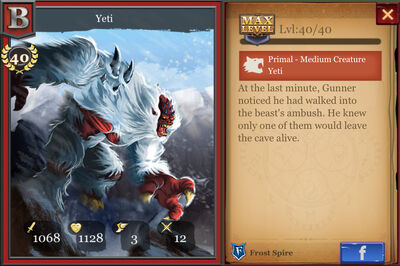 | Level | Attack | Health |
| --- | --- | --- |
| 1 | 748 | 1,580 |
| 2 | 758 | 1,601 |
| 3 | 768 | 1,622 |
| 4 | 778 | 1,642 |
| 5 | 787 | 1,663 |
| 6 | 797 | 1,683 |
| 7 | 807 | 1,704 |
| 8 | 817 | 1,724 |
| 9 | 826 | 1,745 |
| 10 | 836 | 1,765 |
| 11 | 846 | 1,786 |
| 12 | 855 | 1,806 |
| 13 | 865 | 1,827 |
| 14 | 875 | 1,848 |
| 15 | 885 | 1,868 |
| 16 | 894 | 1,889 |
| 17 | 904 | 1,909 |
| 18 | 914 | 1,930 |
| 19 | 924 | 1,950 |
| 20 | 933 | 1,971 |
| 21 | 943 | 1,991 |
| 22 | 953 | 2,012 |
| 23 | 962 | 2,032 |
| 24 | 972 | 2,053 |
| 25 | 982 | 2,073 |
| 26 | 992 | 2,094 |
| 27 | 1,001 | 2,115 |
| 28 | 1,011 | 2,135 |
| 29 | 1,021 | 2,156 |
| 30 | 1,030 | 2,176 |
| 31 | 1,040 | 2,197 |
| 32 | 1,050 | 2,217 |
| 33 | 1,060 | 2,238 |
| 34 | 1,069 | 2,258 |
| 35 | 1,079 | 2,279 |
| 36 | 1,089 | 2,299 |
| 37 | 1,099 | 2,320 |
| 38 | 1,108 | 2,340 |
| 39 | 1,118 | 2,361 |
| 40 | 1,122 | 2,370 |